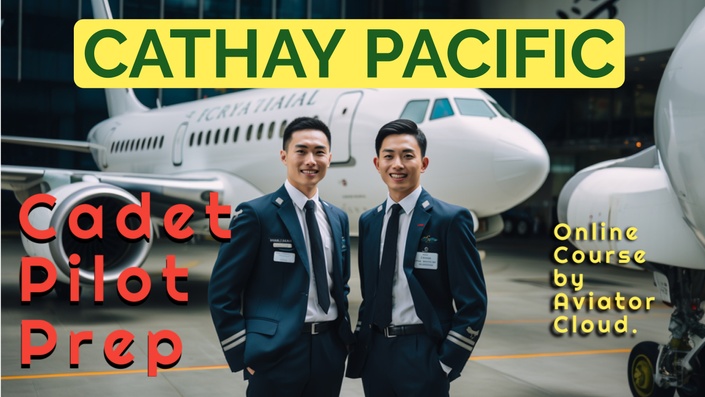 Cathay Pacific Cadet Pilot Programme - Online Preparation Course
Your path to Cathay Pacific Cadet Pilot - Ace the online prep course with Aviator Cloud and soar high in aviation.
Enroll in Course
Cathay Pacific, one of the leading airlines in the world, is calling all aviation enthusiasts to embark on an exciting career journey as Second Officers - the future captains of the sky. If you dream of flying and have the ambition to excel in the aviation industry, this is your chance to be part of the prestigious Cathay Pacific Cadet Pilot Programme.
The Cadet Pilot Programme is a sponsored training initiative that equips candidates with the skills and qualifications needed to obtain a Commercial Pilot License. Successful candidates will have the opportunity to operate regional, long haul, and ultra-long haul flights, experiencing the thrill of commanding a cockpit at soaring heights.
Cadets will undergo ground training conducted by renowned institutions in Hong Kong and other global locations. The flying training phase takes place at world-renowned flying training organizations in either the United States or Australia, where aspiring pilots receive top-notch instruction to develop their aviation expertise.
Applications for the Cathay Pacific Cadet Pilot Programme are open year-round, providing ample opportunities for aspiring pilots to take flight on their career aspirations.
Key Responsibilities: Preparing Pilots for Success
The Cadet Pilot Programme ensures that candidates are well-prepared to navigate the skies through comprehensive ground school theory training. This training is designed to build crucial skills, knowledge, and confidence essential for piloting success. World-class instructors offer unwavering support in teaching flying theory, systems, and the regulations required for a thriving airline pilot career.
Aspiring pilots will then take their skills to new heights by gaining invaluable flying experience in both single and twin-engined light aircraft. The programme also includes training in jet aircraft simulators, where cadets master Airline Operating Procedures, Large Jet Handling, and Multi-Crew Flying, honing their abilities to handle complex scenarios in the air.
Requirements: Setting the Course for Success
Interested candidates must meet specific requirements to be considered for the Cathay Pacific Cadet Pilot Programme:
Eligibility: Candidates must have the right to live and work in Hong Kong or the Chinese mainland.
Academic Qualifications: Graduates from secondary schools with excellent passes in English language and Mathematics or Science are encouraged to apply. Candidates with an aviation degree will have an added advantage, as they bring specialized knowledge in areas such as Aerodynamics, General Navigation, or a BSC in Aviation.
Physical Fitness: As aviation demands peak physical condition, candidates must be physically fit and qualified for a Civil Aviation Department (HKCAD) Class 1 Medical Certificate.
Flight Deck Reach Requirements: Candidates must be able to meet the flight deck reach requirements, and they may be asked to undergo a static reach test and flight simulator reach assessment.
Language Proficiency: Achieving an ICAO English Language Proficiency level 4 or above is essential for effective communication in the cockpit.
Background Check: Successful candidates must pass a pre-employment background check, which includes scrutiny of criminal records.
Age and Vaccination: Applicants must be aged 18 years or above and possess a COVID-19 Vaccination Certificate.
Joining Cathay Pacific as a Second Officer
Upon completing the Cathay Pacific Cadet Pilot Programme successfully, aspiring pilots will receive detailed information about joining Cathay Pacific in Hong Kong as Second Officers. This is an opportunity to take the co-pilot seat in one of the world's most esteemed airlines and pave the way towards a rewarding aviation career.
Personal & Application Information
As an Equal Opportunities Employer, Cathay Pacific treats all candidates fairly and impartially. The personal data provided by job applicants will be used strictly in accordance with the company's personal data policy and solely for recruitment purposes. Applicants who do not receive notifications within eight weeks may consider their application unsuccessful. However, all related information will be retained in Cathay Pacific's files for up to 24 months, and applicants can request a copy of the Personal Information Collection Statement from the Data Protection Officer.
Don't Miss this Once-in-a-Lifetime Opportunity
As the aviation industry continues to soar, Cathay Pacific presents a golden opportunity for aspiring pilots to spread their wings and reach for the skies. Apply now and embark on an extraordinary journey that will redefine your career trajectory. Share the news with fellow aviation enthusiasts and be part of the legacy of Cathay Pacific's esteemed cadet pilots!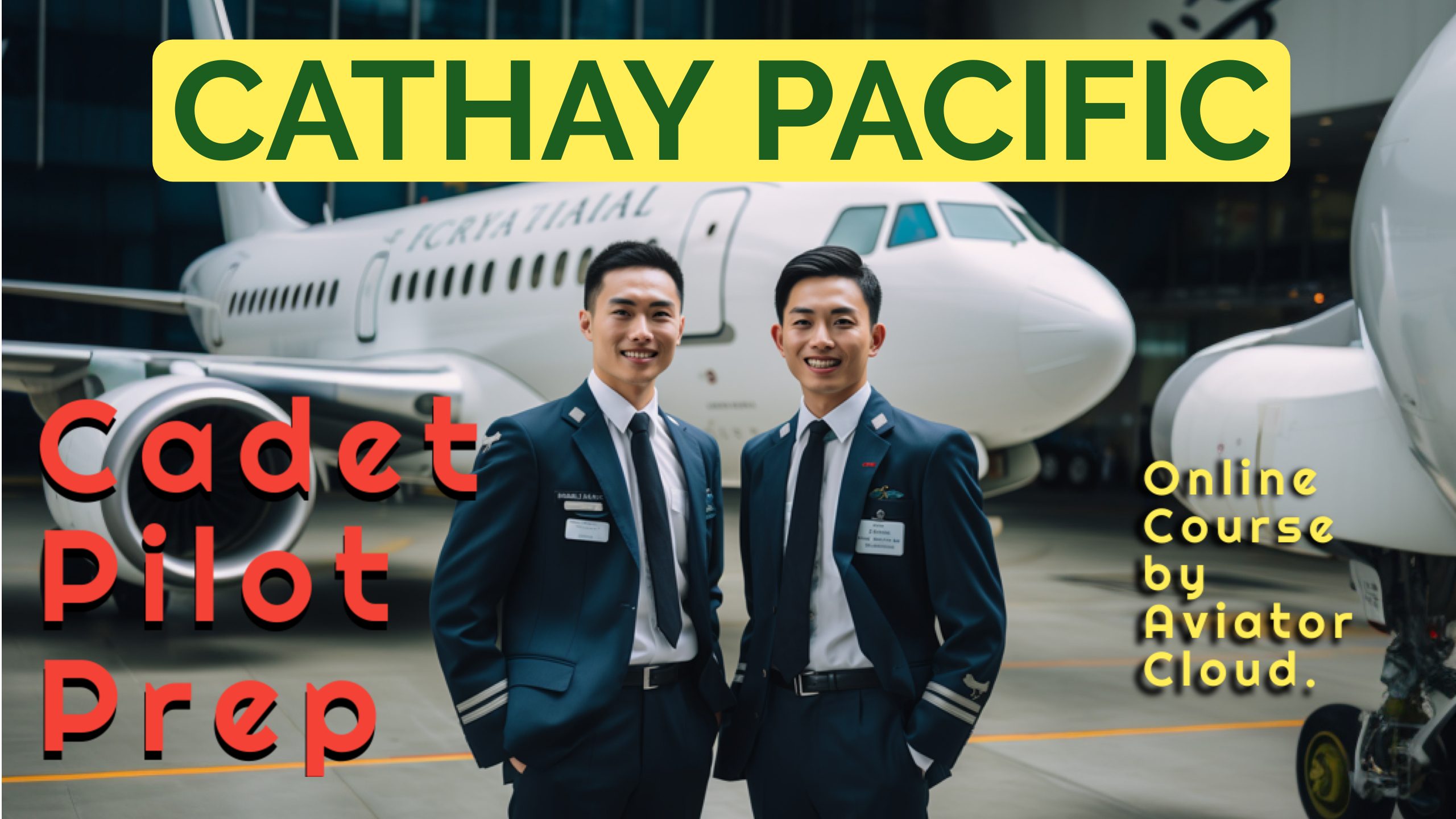 Aviator Cloud's Cathay Pacific Cadet Pilot Programme Online Preparation Course - Unleash Your Flying Potential!
Prepare for a thrilling career in aviation with Aviator Cloud's renowned online preparation course for the Cathay Pacific Cadet Pilot Programme. With seven years of expertise in pilot teaching, we are your trusted partner to soar high in the world of aviation.
Our comprehensive program is tailor-made to equip aspiring pilots with the skills, knowledge, and confidence required to excel in Cathay Pacific's rigorous selection process. Aspiring Second Officers will receive top-notch guidance from our seasoned instructors, who possess years of experience in aviation training.
Key Features of Our Course:
Comprehensive Theory Training: Build your foundation with our in-depth ground school theory training, covering crucial subjects like Mechanics, Electrics, Pneumatics, Avionics, and Basic Physics Revision.
Mathematics Excellence: Master Mathematics concepts with expert guidance on Permutation & Combination, Probability, Differential Equation, Percentage calculation, Fuel Calculation, and Speed Distance Travel, vital for aviation.
ICAO English Proficiency: Ace your language proficiency with our preparation guide for ICAO English Language Proficiency level 4 or above, ensuring effective communication in the cockpit.
Flight Simulator Experience: Get hands-on experience with our jet aircraft simulators, preparing you for Airline Operating Procedures, Large Jet Handling, and Multi-Crew Flying scenarios.
Interview Success: Gain a competitive edge with our complete pilot interview lectures and guidebook, enhancing your chances of success in the Cathay Pacific selection process.
Aviation Degree Advantage: If you have an aviation degree, such as Aerodynamics, General Navigation, or BSC in Aviation, leverage your expertise for an added advantage.
Class 1 Medical Fitness: Understand and fulfill the Class 1 Medical Requirements for aviation fitness, a vital aspect of pilot qualification.
Prepare with Confidence - Why Choose Aviator Cloud?
7 Years of Experience: With our extensive experience in pilot teaching, we understand the nuances of aviation training and deliver excellence in our courses.
Expert Instructors: Learn from industry experts, including seasoned pilots, instructors, and aviation professionals, who will guide you through every step of your journey.
Cutting-Edge Learning Platform: Access our user-friendly online platform, designed for seamless learning and interactive sessions with our in house developed PILOT APTITUDE TEST software.
Personalized Progress Tracking: Monitor your progress and identify areas for improvement through our personalized tracking system.
24/7 Support: Enjoy round-the-clock support from our dedicated team, ensuring your learning experience is smooth and hassle-free.
Your Instructor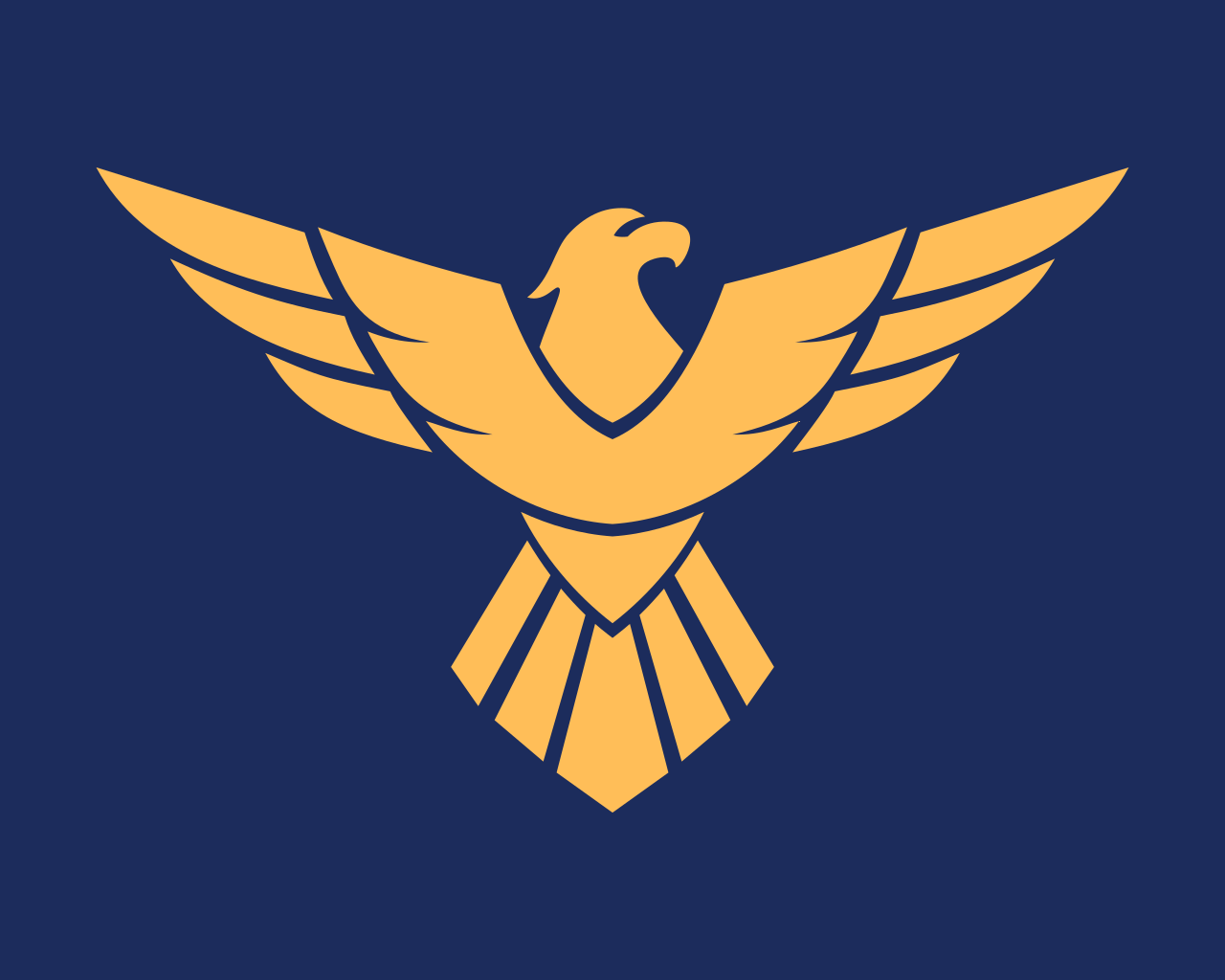 Frequently Asked Questions
When does the course start and finish?
The course starts now and never ends! It is a completely self-paced online course - you decide when you start and when you finish.
How long do I have access to the course?
How does lifetime access sound? After enrolling, you have unlimited access to this course for as long as you like - across any and all devices you own.
What if I am unhappy with the course?
We would never want you to be unhappy! If you are unsatisfied with your purchase, contact us in the first 30 days and we will give you a full refund.