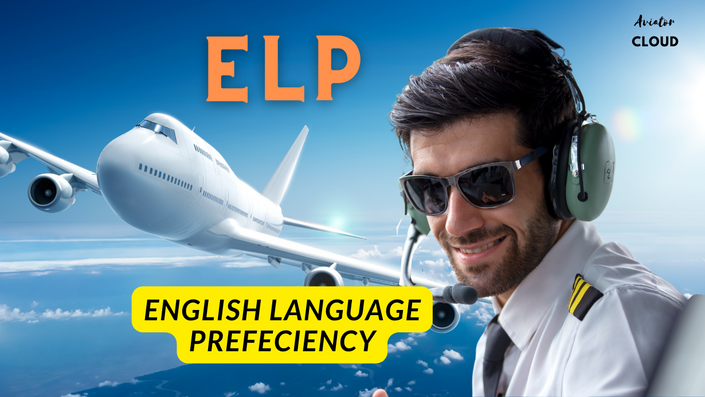 English Language Proficiency Test for Pilots -DGCA ELP procedure and preparation course based on ICAO English Proficiency
English Language Proficiency ELP success course in seven days. Revised ELP test preparation based on ICAO English Proficiency
Watch Promo
Enroll in Course
English Language Proficiency Test for Pilots is designed focusing on the new method of ELP exam, providing the best study materials and preparation techniques in a short time. ELP endorsement into license is a must for Pilots flying in airline or appearing for any airline exam. In this English language proficiency course, we have provided all the relevant information based on our experience to get your ELP test appointment. As the syllabus is vast, and more focused post-2021, pilots need to take this test seriously. We have re-designed the course structure efficiently and given you techniques to prepare in a short period. When you appear for your ELP test dgca, you should feel confident and comfortable well made and climb for the high score.
PILOTS, DO NOT TAKE elp EXAM LIGHTLY ANY MORE.
What is aviation English Language Proficiency ?
Aviation ELP is a step of an Individual's ability to convey In English with an aviation-relevant assessment procedure. Individuals Using aeronautical radios have to be capable of communicate efficiently in a voice just (for wireless ), along with in face-to-face scenarios such as pre-flight briefings, training and they were interacting along with additional team members. From a security standpoint, this communication must be more. From the speech that's used everywhere by pilots and atmosphere traffic service suppliers. In India and several other nations, the working speech is English. Standards for speech proficiency were created by the regulatory authority. You need to hold an aviation ELP dgca endorsed in your license before applying any airline job and flying the passenger plane.
DGCA ELP Test Modules:
Module 1 : General Questions Personal Experience.
Module 2 : Decoding complex radio communication
Module 3 : Aviation Terminologies
Module 4 : Picture Illustration
What's aviation ICAO ELP assessment ?
An aviation ICAO ELP evaluation calls for an Applicant being tested in the ability to convey in English from the aviation environment, in which predominant. The evaluation involves two-way communications between your assessor and the offender also covers:
Vocabulary

Interactions while conveying.
As Soon as You have been examined, you will get the ELP certificate, which you need to endorse in your crew license records. Your ELP evaluation record will probably likely be published in the Conditions/ License Opinions part of one's fight crew permit document.
Do I need to have a current aviation ELP?
You'll have to maintain a current aviation ICAO or DGCA ELP in case you're applying for a battle test to get a private pilot license, commercial pilot license, multi-crew pilot license or aviation pilot license applying for a private pilot license, commercial pilot license, multi-crew pilot license or aviation pilot license applying to an Indian permit according to an international equivalent license (that isn't necessary if the international license is supported with a existing ICAO English speech proficiency evaluation.
How to get a DGCA ELP Test appointment ?
If you are working in the airline, your airline will take the appointment and you'll be asked to be present on the venue at the preferred date. Hence, if you are not in any airline, you have to email the exam centers and ask for a schedule. Here is the list of DGCA approved Aviation ELP testing service provider.
DGCA approved Aviation ELP Training & Testing Service Providers

Check here for more info.
Language Language Proficiency Test for Pilots
The English language proficiency test below is composed of multiple segments, each section is composed of relevant questions. You have some paper based questions focusing on the english grammar, vocabulary, aviation english and understanding ATC communication of different accents. We have provided real life ATC communication across the globe to understand the transmission after analysing the situation for DGCA ELP test.
A. Grammer 1
B. Grammer 2
C. Vocabulary
D. Reading comprehension
E. Aviation English
F. ATC communication of different accents.
G. Image Explanation
DGCA ELP Registration : You can register and ask to schedule your exam here.
Course Highlights
1. ELP test and endorsement information
2. ELP test syllabus area and preparation module
3. ELP test practice - 7 days quick online workshop
4. Real life ATC communication in different accents.
The ELP course is designed on seven days task division . Every day you get some new tasks to prepare, which you can practice throughout the day. Seven days of success module will brush up your English for aviation. Hence, if you have your exam on the next day, you can finish all the modules as quick as you need. All pilots have a reasonable English level, which needs to be shaped and polished according to the ELP test demand and standard.
ELP score 4/5/6 can be very crucial for your next renewal.
We use English language standards which are:
General English Language Proficiency (GELP) – aimed for those who are either just commencing their flying training or want to be able to use aviation air-band radios

Aviation English Language Proficiency (AELP) – designed for pilots, flight engineers, air traffic controllers and is based upon ICAO requirements
Since English is the primary language of education and communicating, you must establish a decent degree of competence in English, irrespective of one's citizenship status or country of source. Aviator Cloud has got this terminology required to be confident all students are going to have the prospect for success within their preferred program. Below you'll see advice on how to give evidence of competence. Proof proficiency - not mandatory Normally, in case you fulfill some of the following requirements you Aren't required to submit proof of ability in English.

Who can enroll to this course ?
Any pilot who is looking for appearing the ELP exam for the first time or for the renewal.
Any student pilot who wants to prepare for the same in future.
Any aviation professional or aspirant, who want to augment aviation English for workplace or for interview.
IT IS NOT THE SAME ELP TEST THAT YOU APPEARED LAST TIME
Course Curriculum
Students need to know about the new DGCA ELP procedure
Available in days
days after you enroll
Course contents
Available in days
days after you enroll
ELP Test - Module 1 - Conversation
Available in days
days after you enroll
Frequently Asked Questions
When does the course start and finish?
The course starts now and VALIED for 3 months! It is a completely self-paced online course - you decide when you start and when you finish. Your validity starts on the date you enroll for the course.
How long do I have access to the course?
The course has an access of three months. After 3 months your course subscription will automatically expire and cancel membership. You'll get sufficient time before your ELP exam.
What if I am unhappy with the course?
We would never want you to be unhappy! If you are unsatisfied with your purchase, contact us in the first 30 days and we will give you a full refund.
Why do I need to enroll for the course?
DGCA ELP exam has redesigned. If is no more the exam you appeared for last time. You should be well prepared all the modules and question pattern. If you are appearing for the first time, you definitely need to prepare well to get at least LEVEL 5 on first time. Even if you are in airline, and your airline is not providing any ground class for the ELP test, you can opt for this course as an alternative.
I am appearing for ICAO ELP exam. Shall this course be useful ?
Absolutely yes. This course materials follow the ICAO guideline and match with DGCA also.
Disclaimer : This course never claims guarantee of passing the ELP exam. The motive of this ELP test prep course is to prepare you for the test with time money and effort saving. This course is neither approved by DGCA nor we claim authenticity for the same. It is preferred by student's choice and not for operational use.
APP Suspport
Download our app and access this course on your iPad. After enrolment, put your registered email and password in the app to get your access.
More query ? Whatsapp Instructor HERE