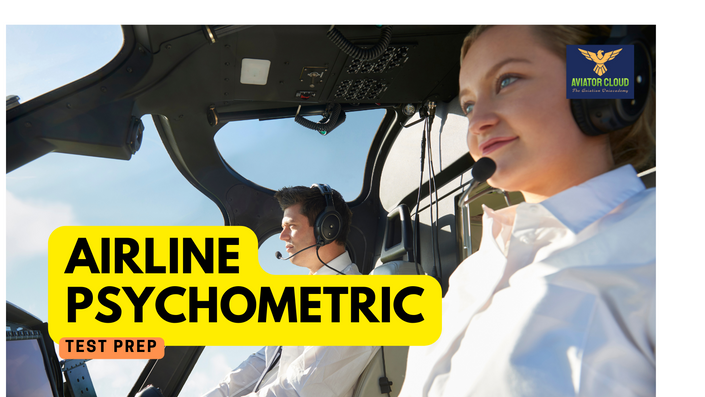 Psychometric Test Prep for Pilots - Airline Pilot Aptitude Test
Prepare your upcoming Psychometric Test for Airline Pilot Recruitment Exam. AIX
Watch Promo
If you apply for an airline pilot or the cadet pilot's selection process, you can see some psychometric tests requirements. In simple terms, psychometric tests are used to determine cognitive abilities or personality for airline pilots. Sometimes the airline selection process is so strict that passing the psychometric test is the only way to get promoted for the technical exam or airline interview. Why is the psychometric test so important?
It is possible to ask the purpose of these tests is and why certain airlines place a lot of importance on them, while others use deficient levels of testing or completely ignore it! Research suggests a link between the results of a psychometric exam or one's performance in training or during job performance. In the case of airline pilot selection, the airline is looking to minimise the risk of activity that safeguards both the company from high costs and starting something inappropriate for them. Airlines would like to find people with mental orientation they think can safely perform the job, so they create tests to accomplish this. However, psychometric tests have become essential to evaluate CRM, safety, leadership, integrity, honesty, and other personalities of a candidate. With the help of other tests, it is possible to assess particular skills, attributes, and capabilities across various tests, thus improving the accuracy of the assessment process.
How to appear for Airline Aptitude Test ?
Assessments of cognitive abilities for pilots could include numerical or verbal reasoning and different computer-based tests. They are often called aptitude or pilapt tests. They differ significantly in importance, with training providers and airlines emphasizing their significance. They're a snapshot of time, and you'll not have another chance should you fail; therefore, the recommendation is to only commence once you're well-prepared. You must go through the directions carefully and note any instructions or other information. If you get an opportunity to practice, make sure you use it properly. Breathe deeply and focus on doing your best. The tests measure the ability of a person to accomplish something. However, there are numerous websites where you can either take the tests or provide sections in which it is possible to practice or prepare yourself for aptitude tests in various ways, and it's contingent on the test you're. The method of preparation is the most inappropriate.
What is the difference between the Airline Pilot Aptitude test and Psychometric Test?
Most of the times' airline candidates get confused about this two. Airlines like Air India Express, IndiGo clearly mention in their selection process ''Psychometric Test,'' but when you search on google for the, you get ''Aptitude Test'' preparation solution. There is a slight difference between these two, as we observed in our previous year's experiences. While aptitude test focuses on candidate's numerical ability, English grammar, verbal and non-verbal reasoning, etc. On the other hand, the psychometric test clearly focuses on candidates' interpersonal skills like personality, integrity, truthfulness, leadership ability, and other aspects that resonate with the high job profile. Clearly, practicing numerical ability questions doesn't help you here.
What is a Psychometric Test for Airline Pilots?

The psychometric test evaluates a pilot candidate's personality based on specific parameters. It signifies the candidate's thought process, lifestyle, outlook on society, upbringing, and values. From the studies of Air Crash investigations, it is found that human error has a significant role in an accident or incident. Human error is sometimes liked to a pilot's personal life, stress, habit, behavior, ego, and other similar dimensions. When CRM ( Crew Resource Management ) was introduced to aviation, significant efforts were implemented to minimize interpersonal conflicts in the cockpit. Psychometric tests are executed by airlines to choose the best-aligned candidates for the company and mitigate the future risks of pilot conflicts. That's why airline gives so much importance to Psychometric Tests to select their future pilots.

What are some misconceptions about airline psychometric tests?
The are no right or wrong answers. So you can mark anything.

Psychometric Test doesn't require preparation. Be genuine and show what you are.
I can pretend to be anything and show my macho personality.
Psychometric Test is a funny exam. The main exam is the technical one and interview.
Every person is different, so different answers don't matter.
A psychometric test is only a passing exam. The score doesn't matter.

How to pass the Psychometric Test?
At first, you have to understand the concept of the test, what is it, and what it does? I think it is a psychological game. If you can play it well psychologically, you'll be on the winning side. If an airline shortlists only 10% of the candidates based on this, how does the rest 90% fail if there is no right or wrong answer? Think about your Pilot job profile, and then think about the airline company. What do they look for in a candidate? What type of personality can be suitable for job prosperity. You get your answer. If you can match with it, you are on. But what if you can't? And how will you know that? That's the question. The best way is to do reverse engineering. Set your goal, set your workflow, and then develop yourself to reach the destination. This is a time-consuming process and very difficult when you have a job exam knocking at your door.

Pilot aptitude test assessing the psychometric & style around is essential to appear to your next stage from the decision procedure. You may no longer require this evaluation lightly; otherwise, all of your time and efforts to get the technical rounded, the meeting will be not right, and you will undoubtedly be out of this choice procedure. The most critical issue in preparing for a Pilot aptitude test is that evaluation could be the dearth of proper analysis substances. Nobody has an ideal personality on earth. This means you must study and expect your-self demanded to the project profile. Materials that can be on the internet are mostly specially created for holiday Pilots.
Moreover, they do not stick to the evaluation pattern of unique tanks. Once the problem resembles everything to study, where you should study, and the way to rehearse, we have made a simple solution for your own time, cent, and attempt saving. We have researched not exactly thirty measurements that the airline recruiter wishes to see on your personality. We ordered that the topics, clarified for simple understanding, also put lots of cases using solutions based in our Pilot aptitude test and psychometric preparation adventures of departure different air companies in the past couple of decades.
Psychometric Test - Air India Express : 2023
This course is designed as per the requirements to prepare for the Psychometric Tests of Air India Express Transition Captain and Senior First Officer recruitment.
Psychometric Test Preparation Course Highlights:
Self Paced. Minimum preparation duration of 12-15 days can make you ready for the test.
Topic-wise concept discussion, examples & exercise with explanation.
Practice sets with evaluation to boost up confidence
Memory based Previous questions asked in different Airlines since 2015.
Success Stories :
This course was first introduced in 2015 and became a favorite to the CPL candidates in the Air India Express campus selection. Later in 2016 and 2017, other airline candidates found it very effective in pilot selection exams in airlines like Air India, Jet Airways, IndiGo, etc. This course never claims the guarantee of passing any airline exam; it does help to maximize your potential to prepare for the best outcome. Link
Course Curriculum
Introduction to the Course
Available in days
days after you enroll
Theory of Psychometric
Available in days
days after you enroll
Integrity
Available in days
days after you enroll
Frequently Asked Questions
When does the course start and finish?
The course starts now and never ends! It is a completely self-paced online course - you decide when you start and when you finish.
How long do I have access to the course?
How does lifetime access sound? After enrolling, you have unlimited access to this course for as long as you like - across any and all devices you own.
What if I am unhappy with the course?
We would never want you to be unhappy! If you are unsatisfied with your purchase, contact us in the first 30 days and we will give you a full refund.
To boost up your confidence before appearing for the actual exam, we have designed lots of practice sets that you can solve, evaluate your answers, identify your strong & weak areas and eventually work on that.